Guest review by Christopher Hawthorne Moss!
Fortunes of War by Mel Keegan
Blurb: 

In 1588 a young mercenary and the son of an English earl meet by a quirk of fate. Dermot Channon is a soldier, while Robin Armagh has been sheltered on his father's estate. Love blossoms fast while war looms on the horizon. Under the thundercloud of armed conflict, Channon leaves England and the Spanish Armada sails soon after. Robin despairs of seeing him again, for their countries are locked in an endless struggle. Years fly by, and in 1595, when Robin's brother is taken for ransom in Panama, the dangerous duty of delivering the price of his life and liberty falls to Robin. He sails with the historical '1595 Fleet,' commanded by Francis Drake, hoping to bring home his brother. But Fortune has other plans for Robin and Channon. Ahead of them is a an epic adventure in hazardous waters where old enmities, Spanish and English, shape their future together — and try to drive them apart.
This is the first MM novel I ever heard of.  My friend and author Brandy Purdy told me about it.   I was astonished.  I didn't even know the genre existed.  It was a fateful day that I read it, since in the more than ten years since I have gone through a major transformation, getting into reading and writing MM romance and ultimately figuring out that I am a gay transgender man.  The author, Mel Keegan, is now my very good friend and started the GLBT Bookshelf at

www.glbtbokshelf.com

that I will ultimately take over when he retires.  If I have read and reviewed your book, it's because I read and reviewed FORTUNES OF WAR all those years ago.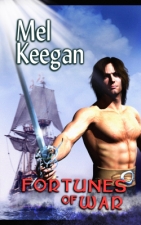 Fortunes of War
Mel KeeganDermot Shannon is the bodyguard of the Spanish Ambassador in the court of Queen Elizabeth I. After someone tries to poison the ambassador, Shannon accompanies him to the country estate of Robert Armagh, a Catholic bent on revenge for the murder of his pretty wife. There Shannon meets Armagh's son, Robin, and it is love, almost, at first sight. Robin is young, starved for a father's approval and affection, and ripe for the picking. What Shannon didn't count on was falling in love.
Sadly the two must part, because England and Spain are now at war. While his dashing lover goes back to Spain to fight for that country, Robin leaves the family estate for London and a new life. Before he can leave, though, his father gets wind of his tryst with the Hiberno-Spaniard and has the crap beat out of him by the priests. In London he gets work as a cartographer, pines for Shannon, fears he is dead and then concludes he had never been more than a boy toy for Shannon, and gives up and marries the boss's daughter. When his brother is held in the Caribbean for ransom, he takes ship only to find himself captured by… Shannon! The rest of the story is kissing and making up, fighting rival privateers, lots of swash to buckle, and lots of graphic sex.
So… love, longing, swashbuckling, pirates, sex… what's not to love? This novel is not meant to be painstakingly historically accurate, but Keegan seems to have the spirit of Elizabethan politics and war in his hands. It's a sweet love story for the most part, though the desertion of wife and kids by Robin is only topped by his decision to marry and have kids when he should have known better. There is an awful lot of the use of the word "boys" in this novel, but never fear… it really means older boys.. young men.. I hope. In reality, boys it might be, but you know how people will talk.
I'm glad I read it, can see why Brandy Purdy recommended it, it being her era and m/m and all. I was just happy to find it on Kindle, so I bought it, had it sent to my Kindle, and enjoyed a good entertaining read.